Tag Archives:
herbalife skin
Herbalife recently launched its newest skincare line, Herbalife Skin, in the UK. The Herbalife Skin line is a new addition to Herbalife's outer nutrition range of products that balances ingredients, botanicals, and extracts with proven science to achieve maximum daily results of beautiful, healthier, and younger-looking skin. Herbalife Skin products have been formulated with an optimum blend of vitamin B3 and antioxidant vitamins C and E, and aloe vera to get softer, smoother, more radiant skin and diminish fine lines and wrinkles. Created to replenish and rejuvenate the skin with fast results, Herbalife Skin has been clinically proven to produce visible results in just seven days.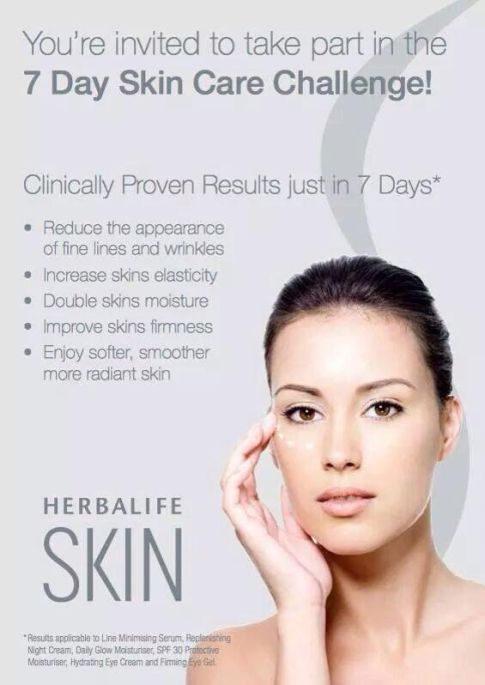 The Herbalife SKIN™ 7 Day Results Kit is clinically tested to show that skin looks more glowing and feels softer and smoother in just seven days.*
Key Benefits
Our clinically tested ** products help you achieve maximum results in just seven days, including:
softer, smoother, more radiant skin
diminished appearance of fine lines and wrinkles
Key Features
Paraben-free
Dermatologist tested
The 7 Day Results Kit includes:
Soothing Aloe Cleanser, a gentle aloe based cleanser that removes excess oil, dirt and makeup.
Daily Glow Moisturiser, a luxuriously creamy moisturizer that provides instant radiance, glow and softness during the day.
Replenishing Night Cream, a nourishing moisturizer that delivers long-lasting hydration while you sleep.
Plus complimentary packets sachets of
Firming Eye Gel – Helps improve the appearance of the delicate eye area by increasing your skin's elasticity.
Hydrating Eye Cream – Help minimize the appearance of fine lines and wrinkles around the eyes.
*Daily Glow Moisturizer, Replenishing Night Cream.
**See individual product pages for information about clinical testing