Category Archives:
Vegan
It's important to include healthy sources of protein in your diet each day. Protein helps your body with a number of important functions and helps you maintain muscle mass. When you think of protein, steak or chicken might come to mind. But if you're not a big meat eater, you have other plant protein options to make sure you get the recommended amount of protein that your body needs.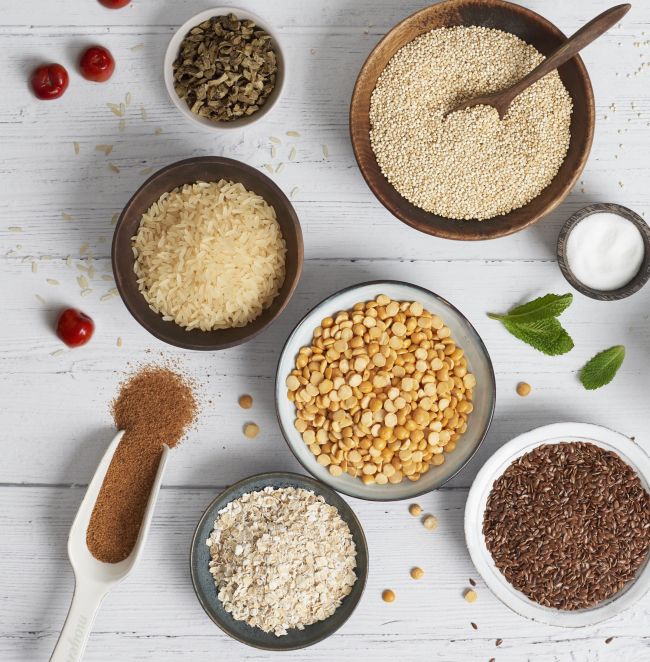 Many plant based protein shakes on the market are are not complete sources of protein, which means they do not contain full spectrum of amino acids making them ineffective in supporting lean muscle mass, satiety or immune system support. Tri-blend Select contains a unique combination of pea, quinoa and flax seed as part of a premium protein blend that provides all the essential amino acids found in a complete protein.
HErbalife have scoured the planet to source the best possible grade of every single ingredient:
Pea
Pea protein is easily digested and has a lower allergy risk than common protein sources, such as soy and dairy. Peas have been cultivated in France for thousands of years, which is why we source our peas there. Centuries-long pea production experience coupled with that famous French gastronomic air mean that our naturally-sourced French peas are simply fantastique.
Flax seed
Traditionally used to relieve abdominal discomfort, flax seed has hidden superpowers: it's high in alpha linolenic acids (one of the heart-friendly omega 3 fatty acids) and rich in protein, fiber and minerals like phosphorus, which works with calcium to build bone strength. When cultivated in a northern climate, the alpha linolenic fatty acid content and iodine value of the flax seed is turbo-charged, which is why we source our brown organic flax seeds from Canada.
Quinoa
Quinoa is highly nutritious and richer in protein, healthy fats, vitamins and minerals than other grains. Plus, it's gluten-free! We work with family farms in Colombia, who have been growing this nutritious plant for generations. Their commitment results in what we consider to be one of the highest-quality quinoa in the world.
These three are the main proteins that make up Tri Blend Select, but the mix also includes high-quality, locally sourced ingredients such as coconut blossom nectar, chicory root inulin, rice protein powder, oat, acerola cherry, and stevia. Banana flavor will be available in 17 markets across Europe, Middle East and Africa this year.